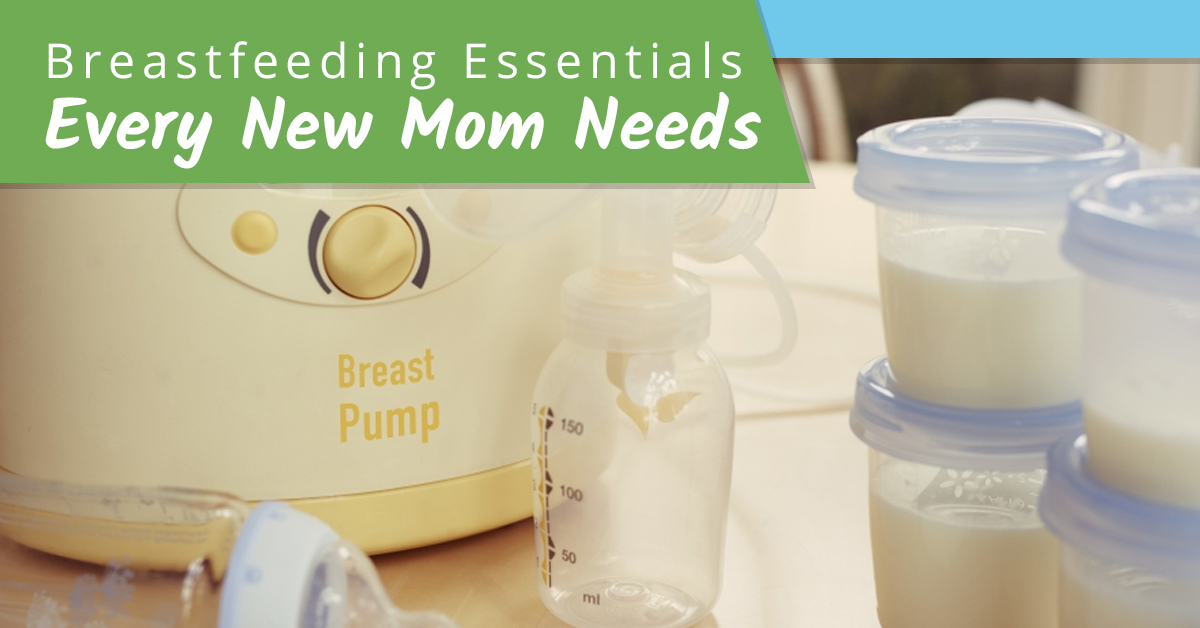 If you are a new or expecting mother, you've likely seen a million blogs telling you that you definitely need this product or don't buy this, you'll never use it. The truth is that every new mom and baby are different, and babies don't come with an instruction manual and a list of necessary accessories. What works for one mom and baby might not work for another. Some mothers swear by one product, while another swears to never use that product again. The best thing to do is start with some essentials. You know your baby will need onesies, diapers, wipes, something to eat, and somewhere to sleep. Often times, all those cool toys and gadgets won't be used until the baby is a few months old anyway, so you can take your time getting those.
However, there are a few items that will be helpful right away, especially when it comes to breastfeeding. If you choose to breastfeed, remember that nursing your baby can be hard work. We've compiled the list of nursing essentials below to help make life a little easier for you and your new baby!
A High-Quality Electric Breast Pump
Even if you are planning on nursing, taking advantage of a free breast pump with insurance is a great idea. Your breast milk is a system of supply-and-demand. This means that the more milk you use, either through nursing or expressing it with a pump, the more milk your body will make. Breast pumps are a great way for new moms to boost their milk supply. Additionally, pumping between feedings allows you to freeze extra milk for later use. This is ideal if you will be returning to work and your baby will be with a care provider, or for dads or loved ones to bond with the baby through feeding without using formula. Most insurances will cover the cost of a quality electric breast pump, so you end up paying nothing out of pocket. Amedsupplies.com will help you get your free breast pump by handling the insurance side of things for you, as well as hooking you up with access to all of the nursing essentials listed below!
Milk Storage Bags
Of course, if you are pumping you will want somewhere to keep your stored milk. While you can usually use any milk storage bag with your breast pump, some are specifically designed to fit certain pumps so you can pump directly into the bag, decreasing the risk of crying over spilled milk — seriously, you worked hard to make that milk! You can check out a few of our breast milk storage bags and see which will work with your preferred pump!
Nursing Pads
Nursing pads help to absorb milk that may leak from your breasts between feedings, as well as provide a cushion between your nipples and your bra. You have two main options: disposable or reusable. Disposable nursing pads are a little more convenient, though might be a bigger investment in the long-run. Reusable nursing pads have a higher upfront cost, but because you can reuse them throughout your time breastfeeding — and save them for any future little ones — might be less money in the long-run. Though, they will just be one more item you have to wash when laundry day comes around. Which, let's be honest, every day is laundry day with a new baby.
Nipple Cream
Breastfeeding isn't supposed to be painful, but many new moms experience soreness, dryness, or cracked nipples. To help with this, use a nipple cream that is safe for babies. For decades, mothers have relied on lanolin to soothe sore nipples, but that's not the only option. Amedsupplies.com offers a couple organic, non-lanolin nipple cream, including the Boob-ease Organic Nipple Balm and the My Brest Friend Organic Nipple Cream. We also, of course, offer tried and true lanolin nipple creams!
Nursing Bras Or Nursing Tank Tops
Your Victoria's Secret bra is wonderful, and we're not telling you to give it up. We're only telling you that the last thing you'll want on your breasts once you start nursing is a stiff, thick, lacy push-up bra. Nursing bras are designed with breastfeeding moms in mind. Most will feature drop cups that will detach on top for easy access. This allows you to feed your little one without maneuvering your breast or bra in uncomfortable ways. We have a selection of super comfy nursing bras and tanks for you to try out!
A Nursing Pillow
You don't truly know how heavy an eight-pound baby is until you have to support them for twenty minutes straight while nursing. Breastfeeding pillows are a lifesaver here. Keep in mind, these pillows are designed to make it easier to hold your baby, not to allow for hands-free nursing. They give your arm something to rest on so you're not having to expend too much energy to hold your baby. They are also great for bottle feeding and having Dad or another caretaker feed the little one!
About That F

ree Breast Pump…

We mentioned earlier that most insurance providers cover the cost of breast pumps. We highly encourage all new moms to take advantage of this offer, even if you are unsure about whether or not you will breastfeed. A free breast pump can increase the ways in which you can provide your little one with the nutrients they need to develop and stay healthy, allowing you to nurse, pump and store, or bottle-feed, as well as help increase your milk supply. Check out our accepted insurance plans and let us help you get started on your new breastfeeding journey!